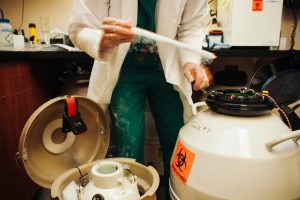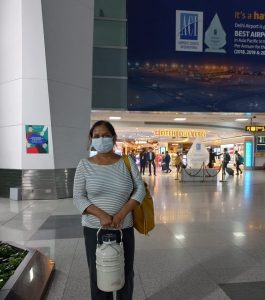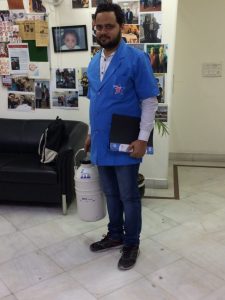 International Star Overseas Services (ISOS) provides Clinic-to-Clinic Transfer (Transport) services of Frozen Embryos, in partnership with a European courier company Assisted Reproductive Technology (ART) 
Many parents over the world had started their Surrogacy journey in the Indian Subcontinent in or around the year 2005. The Intended Parents (IP) invested considerable amount of time, emotions, planning and finance in reaching the stage of 'Embryology' in the initial phase.
ISOS is pleased to announce the ability to transfer Embryos (Transport /courier) services; globally, especially frozen embryos, semen samples & Oocytes.
Ms. Poonam Jain and her team have been actively interacting with the various Government Departments and the relevant Ministries to pursue the Senior Officials to track the fine prints and intent of the Surrogacy bill, since 2015. ISOS has been relentlessly persuading the ICMR for release of Frozen Embryos. We have been able to convince the Government about the good intent of export of Embryos for the parents to extend their family in other countries. It is more of a blessing and good-cause to support parents in this difficult but important journey in their lives. ISOS is the pioneer in India for export of Frozen Embryos, Semen samples & Oocytes.
It is time for the clients to leverage ISOS services. WHY?
Legal: In December 2018, Ms. Poonam broke the record and was able to secure the First Ever path breaking permission from ICMR to export the Frozen Embryos. The process was complex & detailed with various document requirements and time consuming efforts to bring the case to conclusion; the celebration and satisfaction was worth it all!
This opens the gates for all the Intended Parents to seek their Frozen Embryos.
Reach: ISOS has successfully transferred Frozen Embryos to Canada, Ukraine, Dubai, Kenya, Georgia & Thailand. ISOS is geared for transfers from India ISOS is expanding globally.
Expertise: ISOS, in partnership with the European team, has gained expertise on the entire process of Embryo inventory, Clinic coordination, Government Permissions, Custom Clearance, Transport container, Destination Clinic arrangement and all related documentation.
Economy: ISOS has arrangements to transfer anywhere in the world. We have our team of carriers and approved containers. A swift and economical transfer is our professionalism. We can also offer economical transfers by combining one or more Embryos in the same container / flight; with same / multiple destination(s). To combine shipments we need approvals from ICMR for all samples.
Safety: ISOS offers personalized transfer services worldwide for IPs and IVF family. We use the safe and approved cryogenic equipments. Our process ensures Privacy controlled compliance. Non-stop Monitoring of Shipper Tank until Destination. NO X-ray during transport of frozen embryos, gametes or stem cells. All the time, Cryogenic container is hand carried to ensure safe and secured transfers at Airports and Security.
Our charges are economical, with flexible payment plans and assured and safe services.

END-TO-END SOLUTIONS FROM ORIGIN TO DESTINATION (ISOS)